Keith Poppin Added to 2018 One Love Festival in London!
Just announced! Joining the previously announced lineup for 2018 including Johnny Osbourne, Mighty Diamonds, The Mighty Twinkle Brothers, Saxon Sound System, Dennis Bovell, Mad Professor, the Channel One Sound System & more…….Keith Poppin!!!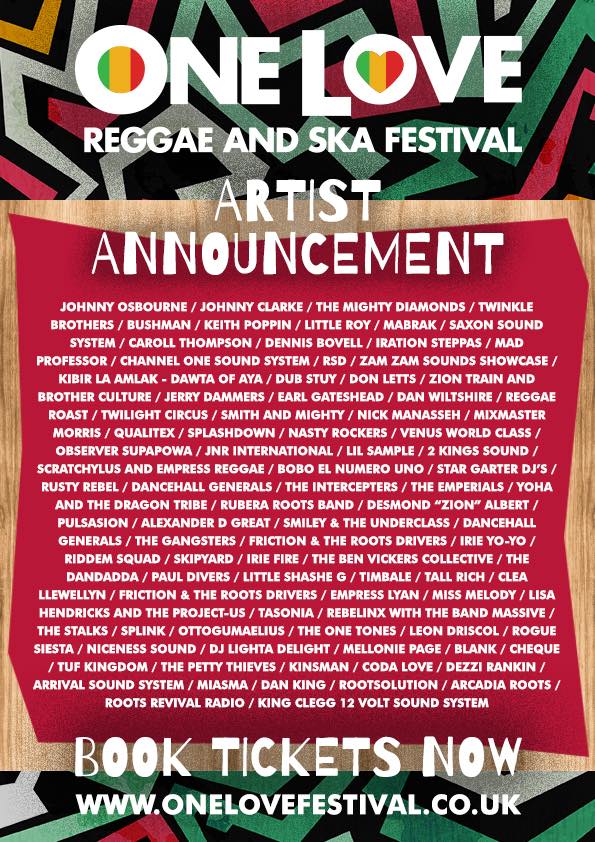 Keith Headlines Tour of Brazil!
Keith recently returned from an extended tour of Brazil, performing at multiple dates across the country, with support from Don Taylor (aka Duffton Taylor, father of Tony Matterhorn) and Norris Cole, lead singer and original member of Jamaican vocal group The Pioneers. Tour stops included São Luís, at the legendary Choperia Marcelo club with locals Odirley Bastos, Jorge Black, Discool Musik, Irie Discos and Li
on Vibes. In addition to his live performances, Keith performed all of his classic hits to adoring crowds, who sang along and cheered him wildly. Due to popular demand, additional shows were added to the tour, which wrapped up just before the holidays. Keith also appeared on Brazilian television and radio programs. Look for a photo gallery from his trip to South America coming up here at keithpoppin.com soon, as well as video clips and exclusive audio. Stay tuned!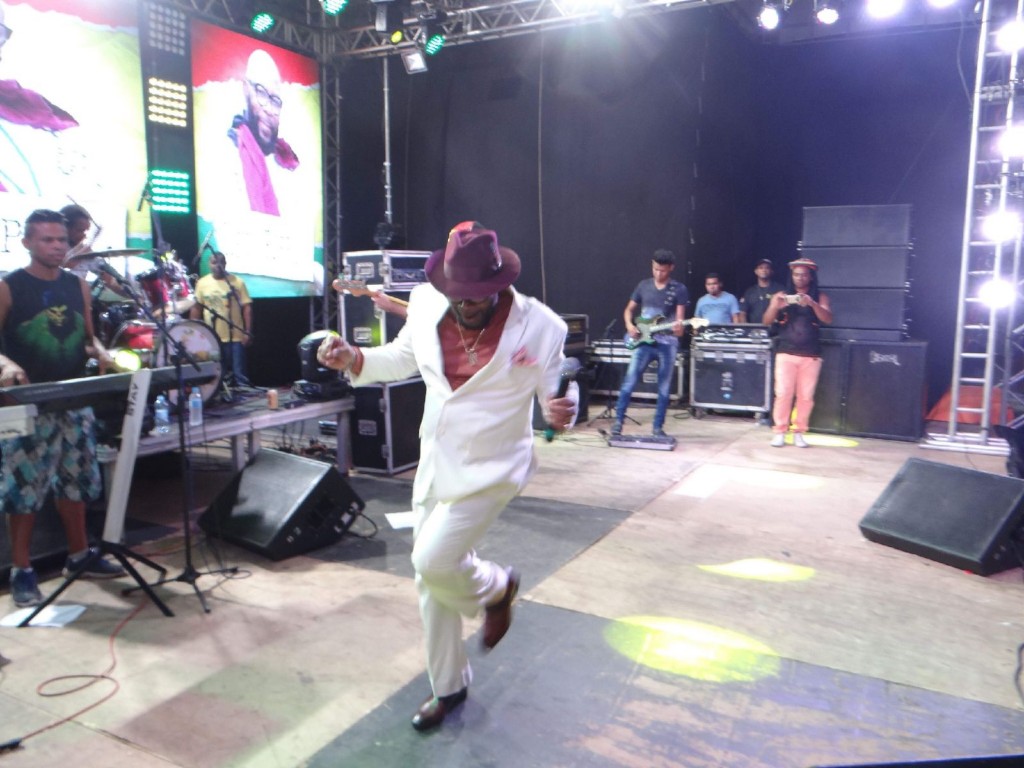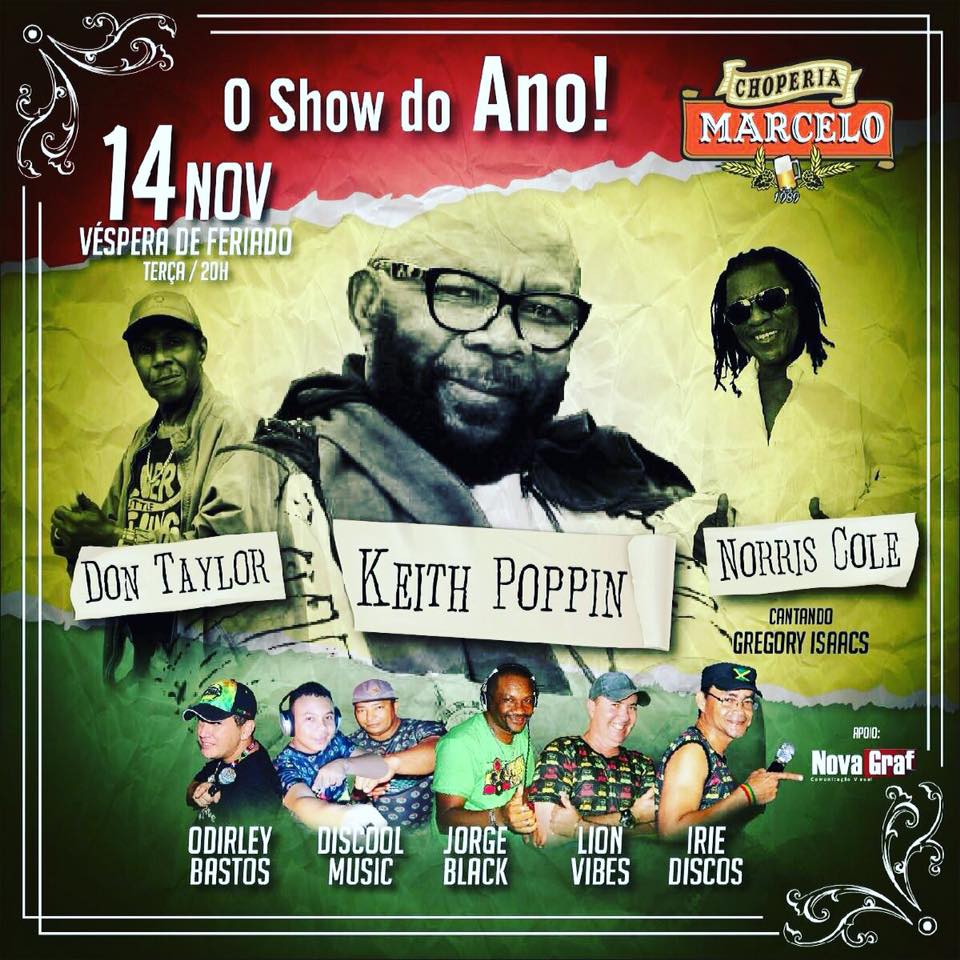 ---
---
Keith Takes Center Stage at the Chesapeake Bay Reggae Festival!
The 7th Annual Chesapeake Bay Reggae Festival returned to Hampton, VA this past May with another stellar lineup of roots veterans and local support acts. The early warm for Saturday's show featured a roots vinyl set from DJ Ras J, who once again brought the crowd to their feet with his high energy set of vintage reggae and modern classics. Additional performers included Mighty Joshua and Donovan Carless, the original lead singer of the legendary Soul Syndicate band backed by Tuff Lion's band. The headliner for  Saturday night was Keith Poppin, backed by Crucial Fiya. Keith performed many of his popular hits such as the UK smash "Same Thing for Breakfast," his roots anthem"Envious" and the joyous "Get Together," as well as newer cuts including the political commentary "Speak Out" and the upbeat "Bounce I." This was the second trip to Hampton for Keith, who quickly became the most re-requested artist in CBRF history after his powerful and emotional performance at the event in 2015. Sunday's show provided even more reggae veterans, with a stand out set from Greg Ward, who has backed Barrington Levy, The Itals, Andrew Tosh and many more.  Dancehall icon Marcia Aitken, singer of the #1 hit "I'm Still in Love with You" hit the stage next, backed by the Culture band, and had the crowd dancing and singing along. Finally, The Cables, a rocksteady vocal trio that recorded their hit "Baby Why" at Studio One and later "Mixing" on Electro Records, took the stage to close out the show. More info about the CBRF can be found here. Keith was also interviewed about this concert prior to his performance by the Caribbean Radio Show.
Keith's Still Poppin'
Back in the day, artists like Keith Poppin recorded tirelessly for different producers. It left them with a cache of songs. Poppin has compiled 24 of his early songs for Vintage Keith Poppin:  The Good Old Days, an album released in January of 2017. According to the singer, several of the songs on Vintage Keith Poppin' were never released in Jamaica. He tediously gathered them for the set which is on his KP Productions label.
"What wi doing is letting the people know where the music coming from. These songs cover my career going back to the 60s," he said in an interview with the Splash from his home in Raleigh, North Carolina.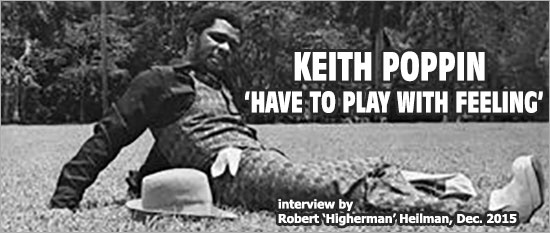 NEW INTERVIEW POSTED AT REGGAEVIBES.COM!
"Keith Poppin. Not one word can describe this statesman from the Foundation and his half century of endurance in Jamaican music. This is the third interview with the humble artist for Reggae-Vibes and is necessary due to his limitless knowledge and vivid memories of the "good old days" of music making and its makers. Robert "Higherman" Heilman conducted this latest installment after numerous and joyful phonecalls to the legend's home in North Carolina. An indepth discussion about his latest project, "VINTAGE KEITH POPPIN – THE GOOD OLD DAYS", Kingston vibrations in the early 1970's and true experience in the business. Maximum respect to KEITH (for the belief and trust) and TEACHER & MR. T (for the support and being true ambassadors for over twenty years)." Read the full interview here….
NEW RELEASE IN STORES NOW!
The wait is over! Keith's brand new album is in select stores now, 24 tracks + one bonus cut = 25 choice selections from the vaults! Vintage Keith Poppin: The Good Old Days is available from CDBaby.com and CDUniverse.com, as well as from our friends at ReggaeLandMusic.com. Recorded at the top studios of the day, the album reaches deep into his classic material, revealing a wide range of styles and influences. The release also features liner notes from Robert "Higherman" Heilman of reggae-vibes.com. After the success of his most recent studio album Speak Out and several festival appearances, audiences at Keith's live shows over the past few years had another request: give us a greatest hits type package with some of the great songs we love but have a hard time finding. After a worldwide search of audio sources and studios, another amazing compilation of rare cuts is on the way out to fans. "I do appreciate all my fans," said Keith in a recent interview, "and I always try to deliver quality music. I give thanks for all my success and know that I could not have done it without their support. This album features some of the best musicians and producers in Jamaica and I also thank them for their contributions."
Chesapeake Bay Reggae Festival
A very special thanks to the staff, crew, volunteers, artists and fans of the recent Chesapeake Bay Reggae Festival at Mill Point Park in beautiful Hampton, VA. A crowd of over 5,000 people was on hand for the music and festivities, along with local craft and food vendors for this annual festival, which moved to the current downtown location from nearby Buckroe Beach this year. Local reggae promoter Kevin Purnell delivered a solid debut for the event at the new venue, with a well curated roots-heavy lineup, free parking, zero security issues and a family-friendly environment for all.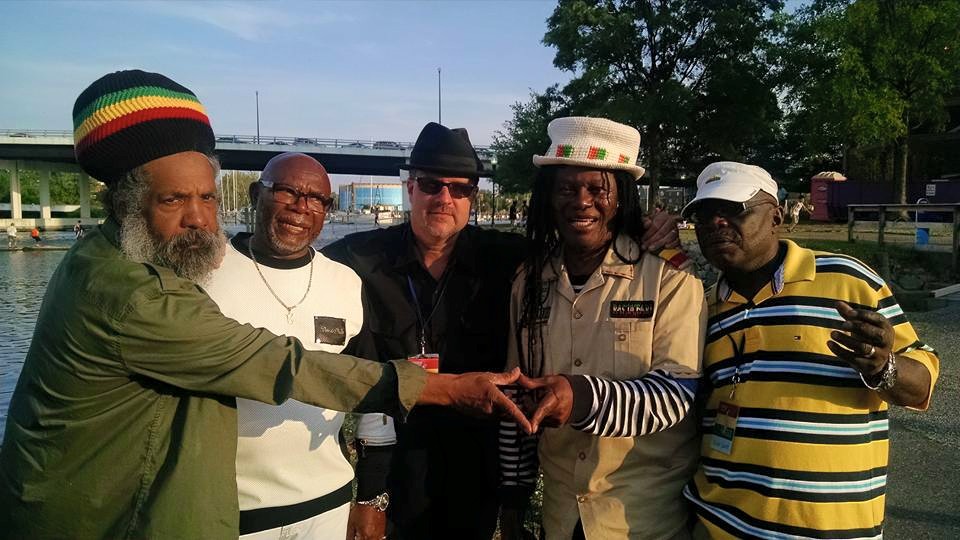 Performances during the two day festival included great sets from Carlton Livingston, Winston 'Flames' Jarrett, Edge Michael, Tuff Lion and many more. Keith closed the Saturday session with a much anticipated new set featuring a string of his classic roots hits, including "Righteous Man," "Envious," "Who Are You," "Same Thing for Breakfast," "Some a Dem a Go Shame" and "Hold Not Thy Peace." Keith also performed some newer material from his most recent album, such as "Bounce I" and "Speak Out." He brought all the children and dancers in the audience on stage for the closing number, including some young members of his own family. The sun sets on a great festival weekend!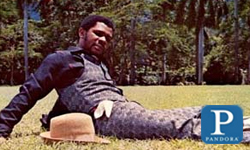 Check out the Keith Poppin channel on Pandora Radio by clicking here. it's completely free – and a fantastic mix of Keith's tunes alongside music from such artists as Eddie Lovette, Ken Boothe, Yabby You, Beres Hammond, and even newer groups like The Pepper Pots out of Spain. Tune in for a trip to the islands on a warm summer day!

Robert "Higherman" Heilman of Reggae-Vibes.com recently caught up with Keith for an exclusive interview.  As a special present to fans we present this brand new interview.
Keith Poppin featured as 'Unsung Hero' by Jamaica Observer


In commemoration of Jamaica's 50th anniversary of independence from Britain, the Jamaica Observer's Entertainment section and writer Simone Morgan recognize 50 people who made significant, yet unheralded, contributions to the country's culture. This week we feature singer Keith Poppin. Read more…
We also recently unearthed this classic video from Keith:
KEITH POPPIN RETURNS WITH 'SPEAK OUT'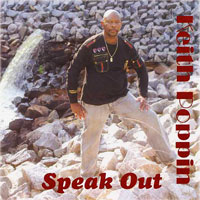 "Keith Poppin's powerful voice and conscious lyrics are complimented by fresh sounding riddims, played by some of Jamaica's best reggae musicians including Dwight Pinkney, Grub Cooper, Keith Francis, Ansel Collins, Rod Bryan, Ed Robinson and Donny Oxman." – Reggaevibes.com
Keith's latest release 'Speak Out' is currently in rotation across the globe, with airplay on the "Reggae Central" program on KPFK in Los Angeles with Chuck Foster, all the way to the "World Reggae Beat" reggae show with DJ Warm & Easy on BBC Three Counties Radio in the UK. Keith music has also been featured on he "Back to Niceness"

reggae show on fmbrussel in Belgium. Some of the other crucial radio stations supporting Keith's latest release include DJ "Postman" Roger of 'Bloodlines Radio' in Boulder, CO on KGNU and WCSB 89.3 FM in Cleveland with Tommy Fox, as well as the "Shocks of Sheba" show on KBOO in Portland, OR and the "Iriation Vibration Show" with Ras Charles Jones at SUNY in Binghampton, NY – among many others. Keith can be heard on recent reggae compilation podcasts from the Dubwise Hifi and Vital Sounds.  You can also now buy Keith's latest release from Amazon.
There is a great buzz happening on the soon to be classic boomshot 'Bounce I' along with 14 other original tracks, backed by some of the best musicians in Jamaica. Where else can you get it? Pick up a copy today online at VP Records or Ernie B's, or stop by VP Records in NYC. Conscious lyrics, amazing melodies, brand new production – and a legendary voice!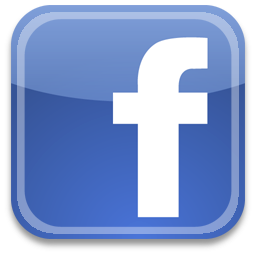 Check in with the latest info on Keith by visiting his FACEBOOK site here. If you have a Facebook page, make sure to link up with Keith by 'liking' his page so you can keep up on the latest news and events. It's a great way to link up with reggae fans around the globe.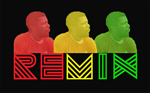 While looking through YouTube videos last week, we came across this amazing slideshow video of a lost Keith Poppin track called "Tell Why Do" by veteran sound engineer and producer Jerry Andrews (ZonaSound).  Keith knows Jerry well, as he engineered his recent "Get Together: Original Recordings 1970-1979″ retrospective album, cleaning up the tracks with a brilliant touch. However, Keith had no idea this track even still existed, much less that Jerry had created a new dub track using the old vocal. So we caught up with Jerry a while back and asked how this project came about. "The vocal which was in the right channel of the vinyl was all that could be salvaged. The original music which was recorded in the left channel was badly damaged to render it unlistenable. I took the vocal and tried to imagine what the music would have sounded like in a dub" said Jerry, who's work on Keith's album, specifically with his attention to sonic detail and depth from the in some cases rough master recordings, has been universally praised by music critics. As it turns out, Jerry also has a good friend of his by the name of Brett Keller who made this fun to watch and visually entertaining mix of images – enjoy!